Summary: Even in these days of virtual transactions, most businesses still want a place to set up shop. It's essential to find the right premises with the right amenities. Click through for a list of items to consider before signing.
Looking for premises for your business? Don't be in a hurry! A business lease requires some research. You need to make sure the space works for you. Before you're ready to sign a lease, consider the following:
How large or small an area do you need?
Do you need a high-traffic location?
Do you need premises with industrial space?
Do you want an anchor store nearby?
What should the space include? For example, do you need conference rooms or a kitchen? Will employees, clients and business partners expect windows with a view?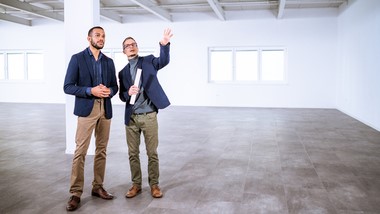 Do your homework
Check online to have a point of reference for the typical cost of leasing commercial space in the area you're considering. Before you hire a broker, ask:
Do you specialize in a geographic area or a specific type of commercial space?
How much experience do you have with small businesses? How much do you have with businesses in my industry?
How many other clients do you work with at a time?
What resources do you have for market research?
What strategy will you use to find me a space?
When meeting the commercial agent, ask:
What's the minimum lease requirement? One year is typical, but some require two or three. In fact, don't be surprised if you're asked to sign a 10-year lease.
Are utilities included? Usually, they're not.
Will I have to pay for trash pickup, cleaning services, snow plowing or any other common area fees?
Will the landlord pay for such changes in the space as layout, paint, new carpet or special electrical needs? Sometimes landlords will amortize costs over the lease term.
Can the landlord insist on such changes as soundproofing for a restaurant or installing ventilation for a nail salon?
Do I need a business license, a certificate of occupancy or a building permit?
What are the traffic numbers? Ask about car counts and community demographics.
Is there enough parking?
Is there room for expansion or the option to move into a larger space in the same building?
What if a fire or flood renders my space unusable?
What happens if changes to the building restrict access to or visibility of my space?
Review the terms carefully
Confirm all the terms, especially clauses about the rent, security deposit, terms of the lease and rules regarding use of the space, which you want to be as broad as possible. The fine print is very important; it's very common for a business tenant to pay at least a portion of the property taxes. Request exclusion in the building — if you're going to be running a brewery, you don't want another brewery to rent space in the same building.
Watch out for personal risk exposure — a clause saying that you're personally responsible for aspects of the lease even if your business defaults. Work with legal counsel to negotiate this aspect of the contract. You want only your business entity to take on risk when you sign a lease.
This is just the beginning — there will no doubt be other issues. Be sure to work with a real estate attorney and other professionals as necessary.
©2021