Summary: Remote work is here to stay, whether that be via fully remote jobs or hybrid positions. As a result, employers must rethink how they plan to monitor, measure and reward employees who work remotely. Click through to learn how to achieve a balance at your company.
Finding a healthy and sustainable balance between remote workers and in-person employees can become rather complicated. Companies that do not actively work to improve this area of their business operations may find themselves losing valuable employees when this could have been prevented.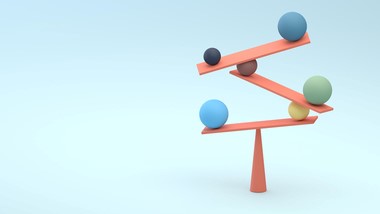 Questions worth asking employees
By incorporating these six questions into their planning process, employers may be able to prevent friction between remote and on-site employees:
Who will be affected by this decision?
How they will be affected?
What are their expectations around this issue?
What does company leadership expect the result to be?
Do any existing employment agreements need to be taken into consideration?
How will the changes be implemented and managed?
The answers take time to put together, and a wrong decision could result in a lot of dissatisfaction for many people. The good news is that many leaders are creating hybrid environments from scratch.
Many of us thought that the COVID-19 pandemic would be short-lived. Nearly everyone expected to return to their offices within a few weeks after the start of the pandemic. However, such an expectation is not how reality played out, and this resulted in company leaders needing to figure out how to successfully implement ways to ensure that work still gets done even though companies are having to operate in completely new ways.
How to create a feeling of equity
It is critical that all employees — whether they work remotely or in person — feel as though they have equal access to resources and opportunities that could result in career advancement. There are a number of ways that equity can be implemented within company culture.
Here are a handful of ways by which this is possible:
Compare resources. Make sure the same resources are available to both remote and in-person workers alike. Doing so can be a way to ensure that all employees are being treated equally.
Make sure new hires feel as if they are part of your team. For instance, you can start by introducing a mentor who can answer questions, offer written documentation for everything that pertains to the role, provide a list of everyone else who is on the team — as well as other company leaders — and set up virtual meetings so that all team members can get to know one another. Don't forget to introduce new hires to everyone else on their team as soon as possible, whether that be virtually or in person.
Create relevant recordings and transcripts of all meetings and conversations that take place. This is important because it ensures that those who could not attend important meetings in real time can still have access to them. This practice typically ensures that all employees are in the loop and get to receive updates as to what is going on in the present time.
Open the door to more opportunities. Make it possible for remote and in-person employees to interact with one another despite the fact that some employees work from the office while others work from their homes.
Seek input from everyone. During work-related meetings, make sure you put effort into paying attention to the quiet voices as well as the loudest ones.
Ways to rework job descriptions in your favor
Instead of automatically opting for preexisting job descriptions, it's best if company leaders choose to think conceptually. For instance, ask yourself how you can ensure that the job will get done if the person doing it works remotely. Furthermore, make sure that the job at hand does not require the person to respond directly to customers during traditional business hours.
For example, suppose a medical practice needs to know whether a patient's insurance requires authorization for a particular procedure. The goal is to double-check that the authorization is completed in a timely manner so that the updated job description reflects every single detail in an accurate way.
To put this into perspective, verify that potential employees are aware that they need to be available during certain hours. You can also take measures to make sure the job is divided between two people as a way of making certain that someone is always on call to do what is required when it is needed.
Last but not least, do not forget to clearly document the redefined roles and responsibilities of a particular job description. That said, let's take a closer look at how you can utilize technology as you focus on retrieving accurate results.
How to utilize technology when focused on results
According to consulting company Gartner, no more than 16% of companies utilize technology as a way of monitoring employee engagement and various other very beneficial data points. Still, monitoring data points that pertain to employee satisfaction, such as feelings of connection, and productivity, such as computer usage, can provide a snapshot of employee engagement.
The main caveat is that while you're making use of the data at your disposal, you'll also need to ensure that employee-related information is both used and stored properly. In doing so, make sure that privacy concerns are addressed and respected. 
Companies that are proactive — such as those that actively prioritize employee-focused policies and ensure that procedures are in place — tend to level the playing field between remote and in-person employees. As a result, these companies typically experience the benefits of higher employee satisfaction and retention. Conflict is easier to avoid when companies ask leaders the six questions listed within this article as they work on structuring their hybrid workplaces.
©2022